What it is:
~ Heat therapy products that provide a combination of heat, acupressure and aromatherapy
~ Designed and manufactured in Canada, with a proven 20-year safety record
~ Recognized and sold as a Class 1 Medical Device
Why you'll love it:
~ Highest quality and longest heat-holding packs and wraps available on the market

~ Delivers both heat and cold therapy where needed. Simply heat in the microwave (or cool in the freezer) to promote relaxation and provide natural relief from aches, pains and stress
~ Each heat wrap has been tailored to work specifically on various parts of the body with custom shapes, weights and the highest quality fabrics
~ Unlike hot water bottles, Warm Buddy heat wraps provide a penetrating, soothing, moist heat which is enhanced by the addition of aromatherapy
~ Will never get cold to the touch
I wish I could buy everyone I know a Warm Buddy. I have been using my body pillow for several months now and it provides instant relief for my sciatic pain. A bonus is that it also acts as a foot warmer in bed for my always-cold feet. I just bought a full body wrap for my aunt who was diagnosed with cancer and she absolutely loves it because it warms her to the core, without the risk of burning like her heating pad. ~ Sylvia H.
Our customer service team is available to answer any questions you may have. Feel free to contact us at 604.274.4426 or 1.877-274.4456  Tues 10-3; Wed 9-6; Thurs 10-7; Fri 9-6; Saturday 9-5. Orders over $100 are shipped FREE of charge anywhere in Canada. For orders under $100, we offer a flat shipping fee of just $10. Live in the area? You also have the option at check-out to pick up your order in person and save shipping charges.

Sports Wrap
5010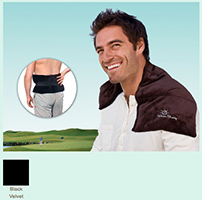 WHAT IT IS: A 10"x26" moist heat wrap that provides comfort for those who suffer with back and shoulder pain. Infused with anti-stress aromatherapy blend of lavender, peppermint, eucalyptus, rosemary and cloves. Available in black velvet and comes with an adjustable belt to hold the wrap firmly in place.
HOW TO USE IT: Warm in the microwave for 2-3 minutes. Extra-long heat-holding capability of 1 hour or longer. For cold therapy, place in zip-lock bag and cool in the freezer for 2-3 hours. Spot-clean using cloth with mild soap and water.

WHY WE LOVE IT: A favourite of Raintree Spa Massage Therapists to treat specific areas of pain. Recent studies have found that heat wrap therapy proved to be more effective at treating lower back pain than oral pain medications such as ibuprofen and acetaminophen. Makes a great gift for golfers and sports enthusiasts.